Men's Club Fishing Trip
Sunday, October 14, 2018 • 5 Cheshvan 5779
5:30 AM - 12:00 PM
Rod N Reel Chesapeake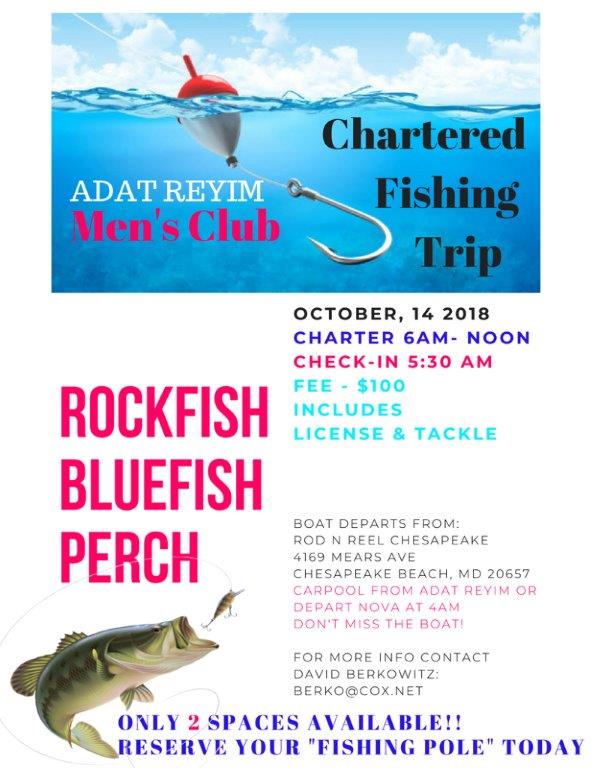 Please Join the Adat Reyim Men's Club (open to all) on an exciting adventure aboard the USS Minnow (not really the name) for 6 hours of fun and fishing on October 14th (Sunday). We will charter our own boat so other that the Skipper and his mate(s) only Adat Reyim family and friends are on board.
You must reserve your spot by mailing me your check for $100.00 to David Berkowitz 8527 Etta Drive Springfield VA 22152 – Check made out to the Adat Reyim Men's Club. We are limiting the reservation this year so get your RSVP & money in soon.
We will be "Live lining" for Rockfish, Bluefish and Perch. We will have a Captain's mate on board who works for tips and will clean our catch if you want him to. The boat leaves from Rod N Reel Chesapeake 4169 Mears Ave Chesapeake Beach MD 20657 – check in time 5:30AM arrival -6-Hour Trip • Morning: 6 a.m. to Noon, (which means you should plan on leaving Northern Va by 4AM)
We can work out carpooling later. Charter Boats include licenses and tackle
Please Contact David Berkowitz for further details. berko@cox.net
Share Print Save To My Calendar
Sat, February 16 2019
11 Adar I 5779
Upcoming Events
All Events
Paint and Whine


Sunday, Feb 17th

3:00p

to

5:00p




Join us for a fun time painting, no experience necessary! We supply the materials, you supply the enthusiasm!

Office Closed
Monday, Feb 18th (All day)


Nebel Funeral


Tuesday, Feb 19th

10:00a

to

11:00a




Masnik Shiva


Tuesday, Feb 19th

7:00p

to

8:00p




Nebel Shiva


Tuesday, Feb 19th

8:00p

to

9:00p




Library Reserved


Wednesday, Feb 20th

12:00p

to

3:30p




Nora Lee

Adult Education - Israel: Abraham to Ben-Gurion


Wednesday, Feb 20th

6:00p

to

7:25p




Three Part Series led by Russell Rayman Five Topics: Israel and The Bible Antisemitism Zionism Arab Nationalism Arab Israeli Conflict PIzza served at 6pm and sessions begin at 6:30pm

Executive Director Shulcloud Meeting


Thursday, Feb 21st

10:30a

to

12:30p




Setup in Oneg room A

Fireside Chat with Rabbi at the home of Carol Kramer


Thursday, Feb 21st

7:00p

to

9:00p




Bring a dairy potluck dish to share.

Bar Mitzvah


Shabbat, Feb 23rd

9:30a

to

12:30p




Bar Mitzvah
Update this content.
Sat, February 16 2019 11 Adar I 5779