Men's Club Fishing Trip
Sunday, October 14, 2018
•
5 Cheshvan 5779
5:30 AM - 12:00 PM
Rod N Reel Chesapeake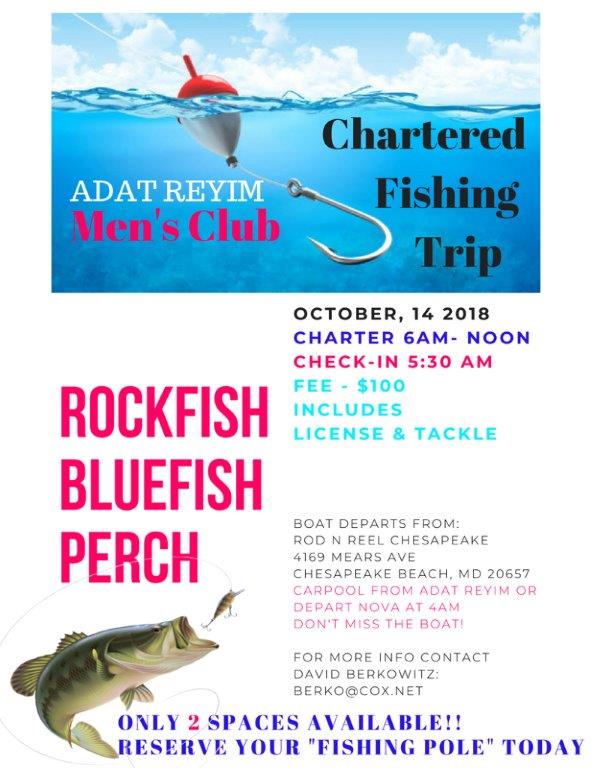 Please Join the Adat Reyim Men's Club (open to all) on an exciting adventure aboard the USS Minnow (not really the name) for 6 hours of fun and fishing on October 14th (Sunday). We will charter our own boat so other that the Skipper and his mate(s) only Adat Reyim family and friends are on board.
You must reserve your spot by mailing me your check for $100.00 to David Berkowitz 8527 Etta Drive Springfield VA 22152 – Check made out to the Adat Reyim Men's Club. We are limiting the reservation this year so get your RSVP & money in soon.
We will be "Live lining" for Rockfish, Bluefish and Perch. We will have a Captain's mate on board who works for tips and will clean our catch if you want him to. The boat leaves from Rod N Reel Chesapeake 4169 Mears Ave Chesapeake Beach MD 20657 – check in time 5:30AM arrival -6-Hour Trip • Morning: 6 a.m. to Noon, (which means you should plan on leaving Northern Va by 4AM)
We can work out carpooling later. Charter Boats include licenses and tackle
Please Contact David Berkowitz for further details. berko@cox.net
Share Print Save To My Calendar
Sun, May 19 2019
14 Iyyar 5779
Upcoming Events
All Events
"Something for your Soul"


Tuesday, May 21st

9:30a

to

10:45a




Formerly "Legends from our Tradition"

Lag B'Omer Pot Luck Picnic


Wednesday, May 22nd

6:30p

to

7:30p




6:30 (before Minyan at 7:30) Outside in the front parking loop Lag B'Omer Pot Luck Picnic Please bring dairy/pareve food for yourself or to share Fire pit with s'mores (provided)

Choir Rehearsal


Sunday, May 26th

7:00p

to

9:00p




"Something for your Soul"


Tuesday, May 28th

9:30a

to

10:45a




Formerly "Legends from our Tradition"

Adult Education


Wednesday, May 29th

6:00p

to

7:25p




Guest Speaker: Seth Kibel Topic: "Jews Of TIn Pan Alley"

Rabbi Search Committee Meeting and Potluck


Thursday, May 30th

6:30p

to

10:00p




Retreat
Friday, May 31st (All day)


Join us for tons of fun activities and bond with new and old friends and family You can participate in a multitude of activities such as hiking, games, singing, eating, praying, learning, or just prop up your feet and enjoy some quiet relaxation. Cacapon is less than a two-hour drive from Adat Reyim For more information please contact Joan Mizrahi at jmizrahi@cox.net or visit the website at www.wvstateparks.com/park/cacapon-resort-state-park

Religious School Committee Meeting


Monday, Jun 3rd

5:45p

to

7:15p




Erev Shabbat Service with Choir


Friday, Jun 7th

8:00p

to

10:00p




Tikkun Lel Shavuot


Shabbat, Jun 8th

8:30p

to

11:00p


Adat Reyim follows the Jewish tradition of hosting a study session on the eve of Shavuot. It is called "Tikkun Lel Shavuot". Please join us in the Library at 8:30pm. There will be plenty of coffee and munchies. Please bring a kosher dairy item to share. Dr Maurice M. Mizrahi will lead a discussion on "The Ten Commandments". Why is "I am the Lord thy God" considered a commandment? Can't I just rest on Shabbat and forget all other rules? Why should I honor my parents if I feel they ruined my life? Is idolatry really that bad if you are otherwise a good person? How can I not covet when I have no control over my thoughts? Why can't I steal from the rich to feed my starving children? Ta shma -- Come and learn and discuss. No preparation is necessary and you can leave anytime you need.
Update this content.
Sun, May 19 2019 14 Iyyar 5779