Hanukkah Happenings 2021!
Sunday, November 14, 2021
•
10 Kislev 5782
All Day for 21 Days
So many Hanukkah events to choose from!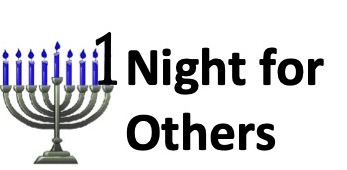 Designate any 1 Night of Hanukkah to give a gift to others. Through December 12, we are collecting gift cards to local stores to support families through NoVa RAFT (Resettling Afghan Refugees Together). Bring a gift card, with amount clearly marked, to one of these events or drop off at the office.
HANUKKAH SHOPPING BAZAAR
November 14 and 21 -
9 a.m. to 12 noon
In front of the synagogue
Menorahs, decorations, gifts and more!
ANNUAL HANUKKAH MUSIC SHABBAT
Friday, December 3rd - Erev Shabbat Service.
Hanukkah songs sung by the cantorial soloist and videos of the choir!
In person and on-line. Register in-person HERE
EMPTY NESTERS BRUNCH AT CLYDE'S
Sunday, December 5th, 12 noon - Last night of Hanukah
Kids off to college or beyond? Always been child-free? Join us!
Clyde's Mark Center, 700 Beauregard Street, Alexandria, VA. RSVP HERE

LIGHT THE NIGHT! Community Hanukkah celebration
Saturday, December 4th, 5 p.m. - Outside & streamed on Zoom
Singing, storytelling, glow sticks & jelly donuts
Be part of a human menorah! Guests welcome!
More info and registration HERE
RELIGIOUS SCHOOL FAMILY PROGRAM
Sunday, December 5th
All religious school families in K-7th grade are invited to join in a special Hanukkah-themed scavenger hunt! Parents and siblings included.
REGISTRATION REQUIRED BY DEC. 2 HERE
LATKE MAKING DEMONSTRATION!
Video on demand :)
Our own Latke Maven David Berkowitz takes you through
latke making, from shredding to tasting.
Watch the video and fry along with David
Share Print Save To My Calendar
Wed, December 1 2021
27 Kislev 5782
Wed, December 1 2021 27 Kislev 5782